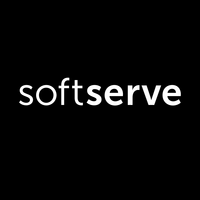 https://getonbrd-prod.s3.amazonaws.com/uploads/users/logo/12856/softserve_logo_1768___1768_black.png
Technical Writer
in Softserve
Closed job - No longer receiving applicants
Follow
Follow Softserve in Get on Board and we'll notify you when new jobs are published.
More open jobs from Softserve
WE ARE
SoftServe is a leading technology solutions company specializing in software product and application development and services. Our mission is to be a valuable partner for our clients (from start-ups to large enterprises) who represent different domains e.g. health care, retail, enterprise, automotive, education, etc. We measure our success by our clients' success. Our company is looking for a smart technical communicator (if you are a technical writer, it is also an excellent fit) who will be working in cross-functional teams or be involved in SoftServe own projects.
YOU WANT TO WORK WITH
Deep diving into the business aspect of the product and identifying project and documentation requirements
Conforming to the TechComm project requirements, following style recommendations and guidelines
Creating templates for online or printed documentation
Creating and updating both end-user and developer documentation
Developing complex technical illustrations (diagrams, workflows, and similar)
Ensuring usability and convenient navigation of product documentation
Developing complex simulations, or simple interactive videos
Performing editorial review of the documentation created by another TC
The client to elicit requirements, validate and approve your work at the main stages of the development life cycle
Developing API guides, maintaining available API portals, and source control and API execution tools
Creating and styling presentations, and developing templates for them
YOU ARE
Our perfect candidate has a grip on understanding the business aspect of client's products and delivering all kinds of user assistance. You are to communicate with system-oriented developers and business-oriented stakeholders effectively, drive full-dress investigation before getting down to presenting your findings to the audience, and organize various types of information into self-contained pieces. We are looking for a professional with 1-2 years of working experience as a Technical Communicator, Technical Writer, or Information Developer
Upper-intermediate English and Spanish level with excellent written and spoken communication skills
A grasp of plain English/Spanish guidelines and international writing standards (Microsoft, Apple, etc.)
Online learning models
Estimation, aligning, and managing own tasks
Microsoft Office (Word, PowerPoint, and Excel) and authoring tools like Adobe Technical Communication Suite, MadCap Flare, Confluence, or Zendesk
Screen-capturing and video development tools
A concept of HTML, CSS, and XML
Agile (Scrum) methodology
Attention to detail, striving to immerse in technical peculiarities
TOGETHER WE WILL
Collaborate closely to advocate user's needs in documentation
Work on dynamic projects at a very stable place of work
Grow technically and contribute to a worthy product
Have access to strong educational and mentorship programs
Care about your individual initiatives, just come and share your ideas!
Conditions
Accessible
An infrastructure adequate for people with special mobility needs.
Pet-friendly
Pets are welcome at the premises.
Flexible hours
Flexible schedule and freedom for attending family needs or personal errands.
Life insurance
Softserve pays or copays life insurance for employees.
Paid sick days
Sick leave is compensated (limits might apply).
Partially remote
You can work from your home some days a week.
Bicycle parking
You can park your bicycle for free inside the premises.
Digital library
Access to digital books or subscriptions.
Health coverage
Softserve pays or copays health insurance for employees.
Dental insurance
Softserve pays or copays dental insurance for employees.
Computer provided
Softserve provides a computer for your work.
Education stipend
Softserve covers some educational expenses related to the position.
Fitness subsidies
Softserve offers stipends for sports or fitness programs.
Informal dress code
No dress code is enforced.
Vacation over legal
Softserve gives you paid vacations over the legal minimum.
Vacation on birthday
Your birthday counts as an extra day of vacation.
Remote work policy
Hybrid
This job takes place some days from home and others at the office.