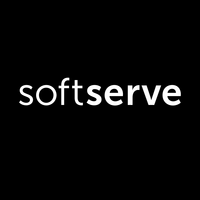 https://getonbrd-prod.s3.amazonaws.com/uploads/users/logo/12856/softserve_logo_1768___1768_black.png
Middle Graphics Software Engineer
in Softserve
Closed job - No longer receiving applicants
Follow
Follow Softserve in Get on Board and we'll notify you when new jobs are published.
More open jobs from Softserve
WE ARE
SoftServe is a global digital solutions company with headquarters in Austin, Texas, founded in Ukraine. 13,000+ associates are currently working on 1,100+ projects with clients in the USA, Europe, and APAC region. We are about people who create bold things, who make a difference, who have fun, and who love their work. In January 2022, we started our operations in Latin America.
Our client is a leading company in the US blue-collar workforce market. They help thousands of people to find work, and thousands of companies to fulfill their vacancies with the best workers. The project is growing rapidly and in order to respond to new challenges, we are looking for full-stack engineers who will join the team and will participate in the development of one of the enterprise applications. You'll be joining a distributed team of professionals who love to deliver the best experience to users.
YOU MUST
Developing, implementing, and maintaining platform graphics runtime
Triaging and fixing QA reported functional, stability, and performance bugs in the graphics stack of other engineers developing applications and samples, to showcase proof of work
YOU ARE
A strong Software Engineer with the following expertise
2+ years of software development experience with C++
2+ years of experience implementing and optimizing graphics algorithms with game engines such as Unity and Unreal using DirectX, OpenGL, or Vulkan
Hands-on experience with design and implementation of modern 3D graphics applications using modern rendering APIs, like DirectX, OpenGL, and Vulkan
Proficient with writing vertex, fragment, and compute shaders using shading languages such as Cg, HLSL, GLSL, and SPIR-V
Great ability to write efficient, clean, maintainable, and portable code
Nice to have
Experience with GPU optimization for increased frame rate and reduced latency
Background of development for augmented reality (AR), virtual reality (VR), or other forms of head-mounted displays (HMDs)
Detailed knowledge of GPU Architecture and design
TOGETHER WE WILL
Contribute to designing and building new products in the field of MR/AR/VR/3D
Shape the quality of AV/VR software products
Accomplish great things
Get a great deal of learning and development opportunities along with our structured career path
Pet-friendly
Pets are welcome at the premises.
Life insurance
Softserve pays or copays life insurance for employees.
Paid sick days
Sick leave is compensated (limits might apply).
Bicycle parking
You can park your bicycle for free inside the premises.
Digital library
Access to digital books or subscriptions.
Health coverage
Softserve pays or copays health insurance for employees.
Dental insurance
Softserve pays or copays dental insurance for employees.
Computer provided
Softserve provides a computer for your work.
Education stipend
Softserve covers some educational expenses related to the position.
Informal dress code
No dress code is enforced.
Vacation over legal
Softserve gives you paid vacations over the legal minimum.
Vacation on birthday
Your birthday counts as an extra day of vacation.
Remote work policy
Hybrid
This job takes place some days from home and others at the office.